The only IT TShirt you'll ever need!
If you're new here, you may want to start with my most popular posts. Then, subscribe to my RSS feed to stay updated. Thanks for visiting!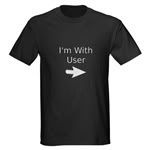 Those in the IT Field know how difficult it can be to deal with users. At times I have to balance good customer service with my need to let the user know how technologically challenged he or she might be. Or, not even technologically challenged. Just challenged, period.
I mean a real user was responsible for the "Best User Phrase Ever!" Now thanks to the Searchmarked.com T-Shirt Shop, I don't have to loose my cool when dealing with users. All I have to do is wear this nifty T-Shirt and stand to the right of any user that I am helping. Then the world will know my plight.
If you deal with users on a daily basis I congratulate you. Buy the T-Shirt for yourself or your IT friends to let the world know of your plight also.
Happy T-Shirting!
Technorati Tags: T-Shirt, Users, Funny
No related posts.
Related posts brought to you by Yet Another Related Posts Plugin.