How to pin a VBScript to the Windows start menu
If you're new here, you may want to start with my most popular posts. Then, subscribe to my RSS feed to stay updated. Thanks for visiting!
Google query: vbscript on start menu
I was playing around with one of the VBScripts that I written and I was trying to get it to pin to the start menu. The only problem is that pinning to the start menu is only available to applications. So I did some googling and came upon a post at Renegade's Random Tech Blog that helped me indirectly.
I went through his instructions about using iexpress to package the vbscript file and they didn't work for me (Sorry, Renegade). However, his post was the catalyst for my solution. One of the anonymous commenters mentioned that you could just do this with a shortcut. Here's how:
-Create a new shortcut and point it to wscript.exe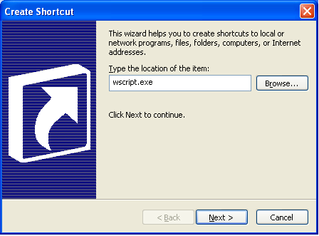 -Click next and name the shortcut the same as your vbscript if you wish
-Click finish. You should now have a shortcut to wscript.exe (the windows script host used to execute vbscript. This by itself will not do what you want.
-Now right-click and go to the properties of your new shortcut.
-In the "Target:" field you should put the path to the vbscript file right after "%windir%\system32\wscript.exe" In my case, my complete "Target:" box looked like this:
%windir%\system32\wscript.exe c:\temp\searchmarked.vbs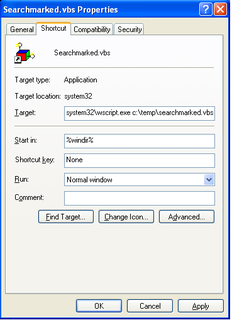 -Now click "OK". You should be able to test the shortcut by double-clicking on it. What an awesome vbscript!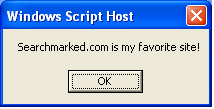 -Once you have verified that the shortcut worked, you can right-click on it and choose "pin to start menu."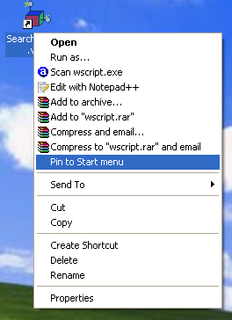 -Voila! There is my vbscript pinned to the Windows start menu.
That's it! Happy Scripting!
Technorati Tags: VBScript, Windows, Scripting
No related posts.
Related posts brought to you by Yet Another Related Posts Plugin.