How to reset the offline folder cache on Windows XP
If you're new here, you may want to start with my most popular posts. Then, subscribe to my RSS feed to stay updated. Thanks for visiting!
Searchmarked.com Tip
If any of you have ever worked with offline folders in Windows, you know how frustrating it is when a server changes or is no longer available and Windows still tries to keep the offline folders synchronized. This is not only annoying for one user, but is extremely annoying in a shared computing environment where multiple users log on to the same PC. This is because offline files stores files for every user that logs on and it tries to synchronize every users' offline files every time.
When offline files become a burden, there is a simple trick to reset the offline file cache on Windows XP (it is not obvious if you have never done it before). The steps are below:
-You must be logged on as a user with Administrator Rights.
-Open up Windows Explorer by pressing "Windows Key + E" (or by using the myriad of other ways to open Windows Explorer).
-Navigate to Tools -> Folder Options
-Go to the Offline Files tab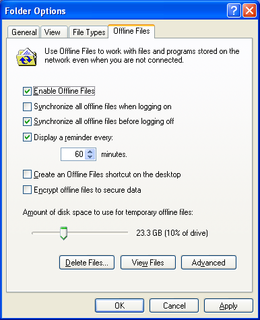 -Now hold down "CTRL+SHIFT" and left click on the "Delete Files…" option.
-A confirmation message will appear.

-Click "Yes"
-Click "OK" on the Offline Files option window.
-Reboot your computer.
-Now the offline files cache has been reset and you can start corrupting it again from scratch!
That's it! Happy file caching!
Technorati Tags: Windows, Offline Files, Networking
No related posts.
Related posts brought to you by Yet Another Related Posts Plugin.